If you have recently been to a locally-owned store, a fair with vendors or even some bigger box stores, then you have likely interacted with a point-of-sale (POS) system. Increasingly, businesses are taking advantage of the many benefits the integrated hardware and software a well-designed POS system offers. By creating an easy and efficient experience for customers and employees alike, POS systems are revolutionizing the way businesses operate in the modern world.
A POS system is an invaluable component of any business's success, and choosing the one that best serves your unique needs is a decision that requires careful consideration. To be competitive in the rapidly changing and technologically driven business world, your business's POS system must provide a pleasant checkout experience for your customers and employees while also providing you with the analytics to help guide your business to success.
There are several types of POS systems on the market today, and all of them feature different benefits and limitations that must be weighed before you can make the best selection for your business. Over the course of this article, we'll look at key factors and useful information to keep in mind as you go about choosing a POS system.
Do I Need a POS system?
Before you can worry about choosing a specific POS system for your business, you want to make sure you need a POS in the first place. If you're asking the question, you probably currently use a digital cash register and receipt printer or possibly even an old-fashioned cash register and handwritten receipts. You may have incorporated some more modern tools, like a barcode scanner or credit card reader, but these components may not all work together and often don't take full advantage of current technology.
If you're still asking yourself whether you need a POS system, the answer is almost certainly yes. This is because POS systems offer some significant benefits to businesses. Here are five of the reasons your business needs a POS system:
POS Systems Use Current Technology
To make the customer experience at checkout as quick and easy as possible, it is necessary to make use of all the available tools at your disposal. This means being able to scan items, take credit cards and mobile payments, provide online rewards tracking and more. Twenty-first-century consumers require 21st-century convenience, and an old-fashioned register cannot compete with the speed and tech tools of a fully integrated POS system.
POS Systems Are More Intuitive Than Older Hardware
For many businesses, training new employees on a complicated and outdated cash register or inventory system creates a significant cost in productivity and profit. Modern-day POS systems help to reduce this loss of time and money by creating a more intuitive and easily-learned user experience. Many POS systems can be tailored to suit your business's specific needs and inventory, eliminating the often superfluous and always confusing extra buttons and functions of older systems.
POS Systems Provide Real-Time Analytics
One thing every successful business has in common is that they are operating on up-to-date information and making data-driven decisions. A POS system will allow your business to do this as well by providing raw data and analytics reports. These reports can give you insight into vital statistics, such as your most popular products and busiest times of day, and thereby enable you to optimize your inventory and scheduling to take advantage of the natural ebbs and flows of your business. Without a POS system, trying to track this data and then make sense of it would be a very difficult process.
POS Systems Enable Growth
As your business will inevitably change and grow, you may find that a more traditional checkout system hinders rather than facilitates that growth. With a modern POS system, the number of checkout positions can be altered relatively quickly, or other locations could be opened as the opportunity arises. In particular, cloud-based POS systems help to facilitate this sort of growth by allowing the synchronization of inventories and analytics across multiple locations. This is not possible with more traditional methods that would ultimately prove to be detrimental rather than beneficial to your business's growth.
POS Systems Can Save You Money
One of the biggest reasons to switch to a new POS system is that it can save your business money and increase profits. The end result of reduced training time, more pleasant customer experiences, data-driven decision-making and real-time analytics is the upward trajectory of your profits. Of course, buying a POS system entails an upfront investment or possibly an ongoing monthly subscription fee, but you should see an excellent return on your investment.
These aren't the only benefits you can enjoy when you invest in a POS system. For instance, a POS can also help you manage taxes. Depending on the features your POS comes with, the benefits could be nearly endless.
How to Choose a POS System
While the benefits of a POS system are undeniable, not all POS systems are the same. Before deciding which POS system would be ideal for your business, you must determine what kinds of requirements your business has in the first place. One of the benefits of a POS system is that it can be tailored to suit your needs, so it is worth taking the time to determine exactly what those needs are before upgrading your current system to a POS system. Here are some questions to ask when buying a POS system:
What Forms of Payment Do I Need to Accept?
You want to make sure your POS system is equipped to handle all forms of payment you expect customers to use and that your business is comfortable with. Current popular forms of payment that are likely to come to mind are cash and credit or debit cards. Every business should be able to take these payment forms, but possibly others as well. You may also want to consider having a POS that can accept payment from mobile wallet apps.
Do I Need My System to Be Mobile?
Mobility can be thought of in two ways when it comes to POS systems. One is how mobile the POS system itself is, and the other is whether you have remote access to the analytics and other information associated with your POS activity.
To some businesses, physical mobility for the POS system isn't important. However, if you're a vendor who travels, mobility may be a top concern. As for remote access, this is a feature that is invaluable to any owners or managers who want to be able to check in on business and even make changes from any location.
Will Customers Interact With the POS System?
Something else to consider is whether you intend to use a POS system as an interface for customer checkout. If so, then you need to be sure the system can be optimized for your consumer-base. Will customers be able to see the cost of each item that is scanned, swipe their own cards, sign into a rewards profile or view digital ads?
All of these things are parts of the customer experience you will create through your POS system. Because these things may mean the difference between a returning customer and a bad review, take the time to consider everything you might want the customer to be able to do with the POS system.
What Are My Inventory Management Needs?
Not every business has the same need for inventory management. For example, restaurants would require a different POS functionality regarding inventory than a retail store since restaurants keep track of ingredients used to make their products in addition to tracking the popularity of various dishes on the menu. Another example is a consignment store. Since there are little to no duplicates of the same product in this store, they wouldn't track inventory the same way as a retail store that continues to stock the same items would.
Whatever your type of business, consider whether you would benefit from having a POS system capable of tracking your inventory and what sorts of inventory tracking tools would be most helpful. For certain retail stores like Convenience Stores, Bodegas, Grocery Delis, Liquor Stores, and Grocery Stores, sophisticated inventory tracking is a must!
Do I Want My POS to Handle Promotions and Rewards?
If your business is interested in running promotions through discounts or coupons, then you must have a POS that can accommodate that variability in pricing. You don't want employees to have to manually punch in changes in price each time a discounted item is scanned in. Some POS systems may even help you come up with store promotions, so you don't have to.
You should also take into account any sort of customer loyalty rewards programs your business might offer. While these programs can be great incentives to consumers and boons to businesses, the variety they create in pricing and inputs at checkout requires an adaptable and user-friendly POS system to ensure things run smoothly. Some POS systems are equipped with a ready-made customer loyalty program you can take advantage of.
Do I Need a POS System for Multiple Locations?
If you currently operate multiple locations or see the possibility of expansion in your business's future, then it can save a lot of headache down the road to start with a POS system that can synchronize inventory and sales figures across the locations to give you a fuller and more detailed picture of how your business is doing. Getting a POS system that works as a standalone unit would be great for a single location, but it might prove troublesome if you were to expand your operations.
POS System Cost and Setting a Budget
Once you have determined what your business's unique needs are, consider what portion of your revenue you can safely allocate to a new POS system. For some established businesses, a high upfront cost is easily absorbed, while new and still growing operations might find a smaller monthly fee more feasible. This factor depends on the size of your business and what you think is reasonable, though there are some general facts you should know:
POS System Prices Vary Widely
As with anything, prices for POS systems exist anywhere on a spectrum ranging from free to thousands of dollars upfront, or hundreds of dollars a month. With the broad variation in price also comes a variation in quality and features. While there are certainly several options that can work for you, research and thought should go into your decision. Be sure to look beyond just the price tag to see what the experience of actual users has been like.
Ongoing Monthly Fees Vs. One Large Upfront Cost
For some POS systems, such as the on-premise terminal units, a high upfront cost is to be expected. While this can work for some businesses, many businesses opt for cloud-based software services that incur recurring monthly charges. This ongoing charge ensures customer support as well as increased functionality with regard to future expansion and updates.
Traditional Options Are Typically More Expensive
You may look at the price tags of some modern-day POS systems and wonder whether a more traditional cash register system might adequately meet your needs instead. Generally, this will not be the case. A traditional cash register is still costly and may cost the same as a more robust POS systems. The integration of software and hardware also means POS systems can be updated with evolving times and needs in ways that traditional systems simply cannot.
With these things in mind, take some time to determine a smart budget for your POS system so you make a good investment that will help instead of hurt your bottom line.
POS Types and Features
With your business's needs well-understood and a budget outlined, you should begin comparing the various features POS systems have to offer you. There are five primary types of POS systems that have some distinct benefits and limitations:
Online POS Systems
This option carries potentially the smallest price tag, but accordingly, it also works best for low-volume businesses. This type of POS system uses your existing hardware, such as a desktop computer, laptop or tablet, and simply requires installing the POS software.
This type of system features great mobility if you are using a laptop or tablet and a low initial cost since you have your pre-existing hardware. Assuming your software is stored in the cloud, this option also gives you the ability to access your analytics from any device with internet connectivity. However, it does not offer much in the way of customer experience and does not work well for businesses that deal with large inventories and heavy customer traffic.
Mobile POS Systems
This type of POS is designed to work exclusively on mobile devices such as touchscreen tablets or phones. Similarly to the online system, a mobile POS uses cloud technology and offers you the ability to access your data from anywhere you have internet access.
However, this POS system will typically require additional hardware as it is geared toward in-person customer transactions more than a solely online POS. This might include a card reader or barcode scanner. Since this system is made to be mobile, it can easily be transported from location to location, making it popular among vendors who frequent fairs or operate on city circuits.
On-Site Terminal POS Systems
Stationary terminals offer the most familiar experience for consumer and employees by recreating the feel of approaching a traditional register while still incorporating contemporary technology. This POS system involves the integration and installation of dedicated hardware and software, making it more cost-intensive than the previous options. However, this steeper upfront cost carries with it the ability to handle much higher volumes of inventory and customer traffic.
This system is stationary, so you don't have the mobility of the tablet or phone systems. Additionally, because this system is intended to operate independently of the cloud or support from the POS company, you may have a harder time updating the system or resolving any issues that arise. You would also need to be at the physical location of the system to access your analytics since the servers would be hosted locally instead of on the cloud.
Cloud-Based Terminal POS Systems
The cloud-based terminal system sometimes carries with it the same higher upfront cost and lack of mobility as the on-site terminal system, but it resolves the issues associated with on-site terminal systems. Cloud technology allows your POS to be connected to the internet, opening up the possibility for support, remote data access and updates. This will enable you to maintain the efficiency and familiarity of the terminal system while also being able to peruse your sales data from anywhere, and receive ongoing support from your POS company.
The cloud-based terminal system typically has a monthly fee you pay to the POS company which helps keep the initial cost a bit lower and funds the software updates and support services you get.
Self-Service Kiosks
Increasingly popular with restaurants and large retailers, self-service kiosk POS systems, although expensive initially, can potentially improve your business in a number of ways. The first and most obvious way is that they do not require an employee to be standing at them attending to customers at the checkout, which saves time and manpower. This system may also be more appealing to a customer who does not wish to stand in line and would rather make their purchase quickly and leave.
However, the self-service POS system may lead to confusion for the customers if there are many screens to go through or coupons or rewards to factor into their transactions. Again, this POS system is most popular among very large stores that use it as a supplement to their more traditional registers or terminal systems. This option, similar to the terminal options, has the potential to be connected to the cloud but does not necessarily have to be.
Choose the World's Greatest POS System From NRS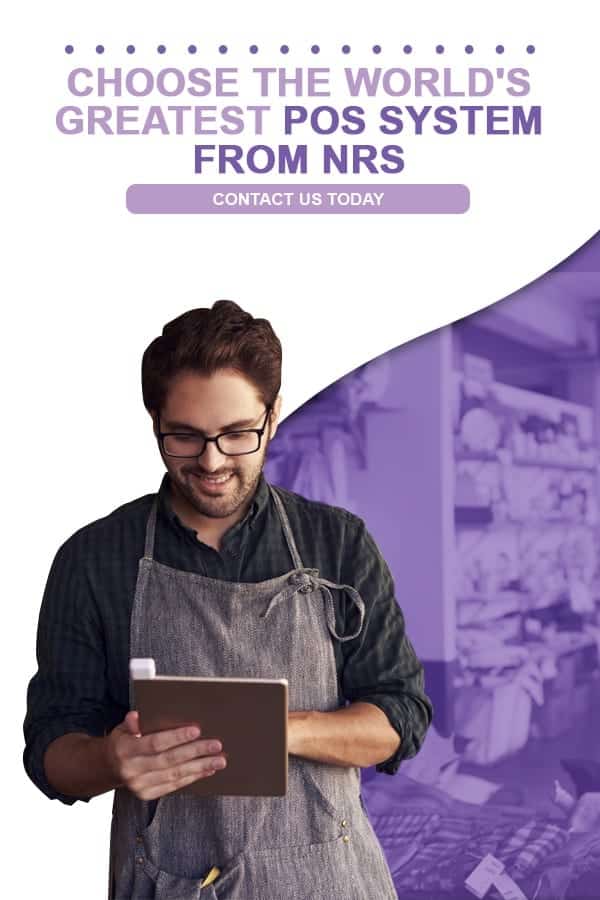 If you own a small business and want to get the most out of a POS system, consider the POS+ from National Retail Solutions (NRS).
Our POS system is the perfect combination of being high-tech and user-friendly. It is also the best value on the market, so you can be confident you're making a smart investment. Businesses that love our POS system include everything from bike shops, bodegas, dollar stores and delis to hardware stores, hair salons and more!
The POS+ is an all-in-one POS system, meaning all components are integrated to work together seamlessly. These components include a register terminal with intuitive touch-screen controls, customer-facing display screen, barcode scanner, credit card reader, cash register and receipt printer.
In addition to enjoying high-tech and easy-to-use hardware and software, you benefit from ongoing software updates and excellent customer support. You also gain access to the BR Club, a nationwide loyalty program used by independent retailers to encourage repeat business. If you want to choose the best POS system for your small business, take some time to learn more about the POS+ or contact us today for a free quote.